For apprentices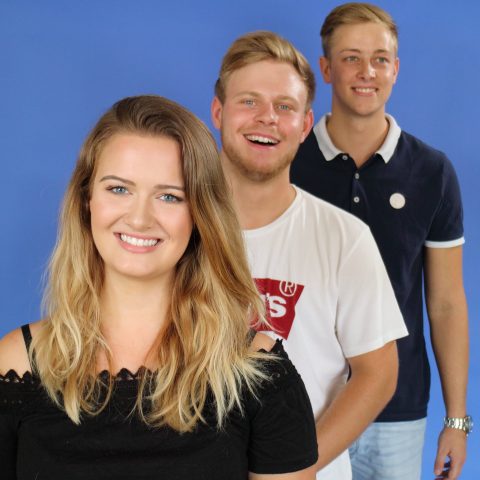 Experience DIENES as an apprentice
You have almost finished school and are looking forward to starting a successful professional life soon? At our headquarters in Overath, we offer young, motivated people the opportunity to complete an attractive and well-founded vocational training programme with us. In addition to qualified support, you can expect interesting opportunities for promotion and development as well as very good chances of being taken on in our team after you have completed your training. If you are interested in DIENES products and would like to lead our internationally successful company into the future with committed colleagues, we look forward to receiving your application!
Not all apprenticeship positions are filled every year. Click here for our current vacancies:
Our apprenticeship professions
Warehouse logistics specialist (m/f/d)
Job title
Warehouse logistics specialist
Duration of training
3 years
Field of activity
Industry, trade, forwarding companies
School qualification
Secondary school diploma
Fields of activity
Warehouse logistics specialists are involved in logistical planning and organisation processes, accept deliveries in goods receipt and check them against the accompanying documents.
The goods are then unpacked, checked and assigned to their destination in the warehouse or department and forwarded with a delivery note statement. The warehouse worker has to sort the goods and store them according to the requirements, according to economic principles and in compliance with the warehouse regulations.
You carry out stock checks, inventories and inventory maintenance measures, pick and pack goods for outgoing shipments according to legal requirements.
They use company information and communication systems, standard software and workplace-specific software.
Communication and cooperation with preceding and following departments are an important part of the professional.
The use of technical foreign language skills and the observance of safety and health protection principles are sometimes part of the work. They support environmental protection and the rational use of energy in quality assurance measures.
What you bring with you:
Sense of order and diligence

Physical fitness

Interest in logistical processes and quality assurance measures

Interest in environmental protection, safety and health protection at work
Industrial Clerk (m/w/d)
| | |
| --- | --- |
| Job title | Industrial Clerk |
| Duration of training | 3 years (years) |
| Field of activity | Industry, trade, forwarding companies |
| School qualifications | At least advanced technical college entrance qualification |
Fields of activity
Industrial clerks work in companies of different sectors and sizes. Their commercial field of activity covers all functions (departments) and processes of a company. In sales, they take care of everything from enquiries to ordering products or services. They are responsible for customer service below, as well as for customer acquisition, customer retention and customer base maintenance in general.
The purchasing department deals with the selection of suppliers according to quantity and quality. They determine the need for products and services via external procurement, purchase materials and means of production. In addition, they take care of the timely delivery.
The work preparation/scheduling department establishes delivery times and takes care of production schedules for the manufacture of the product.
The shipping department takes care of the logistical delivery of the goods to the customer. Whether by air, sea or rolling freight.
In financial accounting, the precise checking and posting of invoices is part of the job. They process business transactions in accounting, evaluate key figures and statistics for performance monitoring and for controlling operational processes.
Finally, the human resources/payroll office takes care of personnel recruitment, as well as personnel selection and deployment. In addition, all personnel-related issues are handled there.
What you bring with you:
Inclination towards mathematics, German and English

High concentration capacity

Sociability

Good verbal and written communication skills

Customer and service orientation

Organisational skills
Technical product designer (m/w/d)
| | |
| --- | --- |
| Job title | Technical product designer |
| Duration of training | 3,5 years |
| Field of activity | Industry, trade, forwarding companies |
| School qualifications | – |
Fields of activity
Technical product designers are specialised in CAD programmes. They support the work of engineers by creating and modifying 3D data sets and documentation for components and assemblies based on design and technical specifications.
In doing so, they take into account manufacturing processes and material properties, plan and coordinate workflows and construction processes, and check and assess work results.
When a new product is designed, technical product designers calculate lengths and areas, volume and mass as well as the centre of gravity of the product. To do this, they must have mathematical knowledge and master geometric laws.
Technical product designers design assemblies and individual parts. In order to assess their resilience or flexibility, they need to know their material properties. Basic knowledge of physics and an interest in materials science are therefore advantageous.
Complex CAD software is used in design and development departments. Basic computer skills are therefore helpful. In addition, a presentation is usually created to introduce the product to be developed.
Product designers also learn to calculate the costs for development, production and material of a new product. The ability to work in a team and in a customer-oriented manner is part of the training.
What you bring with you:
Good to very good knowledge of mathematics

Interest in materials science

Creativity and fun in drawing and constructing

Diligence and spatial imagination
Machinist – specialisation grinding (m/w/d)
| | |
| --- | --- |
| Job title | Machinist – specialisation grinding |
| Duration of training | 3,5 years |
| Field of activity | Industry, trade, forwarding companies |
| School qualifications | At least secondary technical school leaving certificate |
Fields of activity
In the field of grinding technology, cutting machine operators machine workpieces for machines, devices and systems by cylindrical and surface grinding on conventional or computer-controlled grinding machines.
In doing so, they plan the corresponding production processes, select the necessary abrasives and create programmes for computer-controlled machines.
You set up grinding machines, check the grinding wheels and mount them. They attach jigs, monitor the production process and check and ensure the quality of the workpieces. They also maintain and care for the machines to be operated.
Metal cutting mechanics specialising in grinding technology mainly work in the field of metal processing in foundries and industrial companies, e.g. in companies for machine, plant and apparatus construction, metal products or in companies for vehicle technology. They mainly work in machine shops, workshops or workshops.
What you bring with you:
Good knowledge of mathematics

Talent and patience for precise work

Understanding for the machines

Interest in environmental protection, safety and health at work

Geometric imagination