Material qualities and finishing processes for knives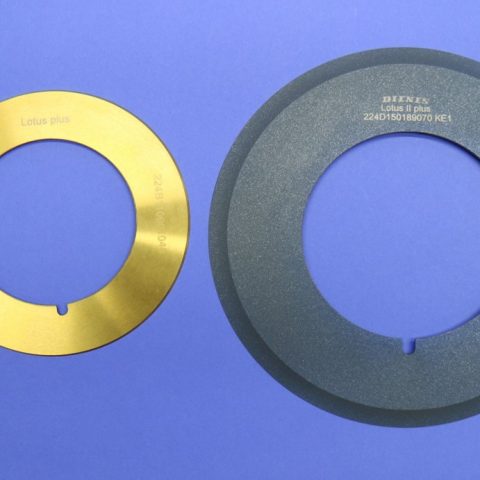 The importance of different material qualities
When evaluating the material qualities of circular and straight knives, tool life is one of the most important parameters. Across all industries, tool changes mean undesirable machine downtime due to the need for regrinding, which reduces productivity.
Since knives are used in a wide variety of industries under a wide variety of operating conditions, the choice of material is of decisive importance. The respective pairing of materials and working hardnesses for upper and lower knives is of great importance for the wear behaviour. Chrome-alloyed steels are used as the standard blade material. The use of high-chrome alloyed high-speed steels and powder-metallurgically melted high-speed steels as well as carbide and ceramics can increase the tool life many times over. However, due to the environmental conditions and the material to be cut, in some cases the corrosion resistance of the cutting tools used as well as the knife service life are of primary importance.
Possible options
Conditionally stainless steels
Complete corrosion resistance is not achieved with conditionally stainless materials. In addition, the maximum achievable hardness is, compared to cutting tools made of cold work steels, lower and the knife life is significantly limited.
Stainless DPM (DIENES Powder Metal) grades
Due to the special manufacturing and hardening process, DPM steels have a microfine structure and a high alloy layer, whose property profile is above that of conventional HSS steels. Today, it is possible to produce corrosion-resistant powder steels without limiting their hardenability.
Coating and mineralisation process
Refined knives have a drastically improved service life. DIENES works in this area with a refinement process for upper knives that diffuses its advantageous properties even into the depth of the material. Reservations about regrinding are therefore largely unfounded. The correct procedure for coating allows even coated knives to be resharpened as often as uncoated ones. The comparatively higher costs of coated knives are quickly amortised by the significant improvements in service life.
Especially in printing presses, dust particles can cause massive malfunctions. Apart from the use of backlash-free, precisely adjusted knife holders as well as flawless knives with narrow lateral and vertical runout tolerances, there are recently specially anti-dust coated top and bottom knives, as well as knife holders with corresponding suction devices. These refined knives not only minimise the formation of cutting dust, but also have a longer service life. In addition, they have improved gliding properties due to their coating and prevent adhesive from sticking to the knife edge when cutting adhesive materials. Reservations about regrinding such knives are unfounded, as this refinement is not only effective on the surface, but diffuses into the depth of the knives. Thus, if done properly, coated knives can be resharpened as often as uncoated ones.
Carbide and ceramic
Both cutting materials are chemically inert and have the highest wear resistance. Of utmost importance are the reproducible and precisely defined operating conditions. The knives and knife holders may only have the slightest concentricity deviation and side impacts. Improper handling leads to immediate break-out of the sensitive and hard knife edges.
Your advantages with coated knives
Improvement of wear resistance

Improvement of corrosion resistance

Improvement of the anti-adhesion properties

Decorative layers for visual differentiation
That might also be of your interest