Collars
We are happy to offer you individual dimensions in addition to the standard ones.
| | |
| --- | --- |
| Outer diameter | 62–150 mm |
| Inner diameter | 25–100 mm |
| Knife seat | 40–120 mm |
| Standard thickness | 5 / 10 / 15 / 20 mm |
| Areas of application | Paper, cardboard, paperboard / labels, adhesive tape / carbon, aluminum foil, non-ferrous metals / film, foil, plastic / nonwoven, textile, special materials |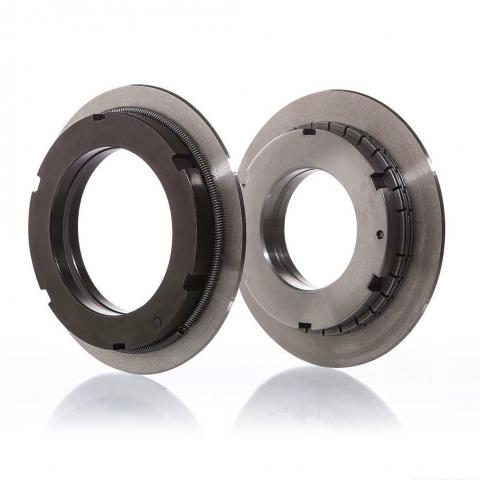 Collars from DIENES
DIENES is the world's leading precision supplier of circular knives, straight knives, knife holders and slitting systems. Thanks to our permanent development, state-of-the-art manufacturing and comprehensive quality controls, we guarantee lasting performance and minimal tolerances, thus enabling perfect cutting edges. In the field of collars, DIENES offers different versions with and without locking. Depending on the machine concept, different types of lockings are used.
Use of collars
Of all the longitudinal cutting methods, the circular knife cut is the most widespread. The associated cutting machines each have an upper and lower cutterhead, on which the cutting tools were fixed. On the upper shaft are collars. This consists of a knife holder and safety ring, a spiral or disc spring and the actual top knife blade, which can be changed relatively quickly. Depending on the tangential or looped path, the bottom knife shaft is usually equipped with grooved knives with or without individual locking and possibly intermediate rings.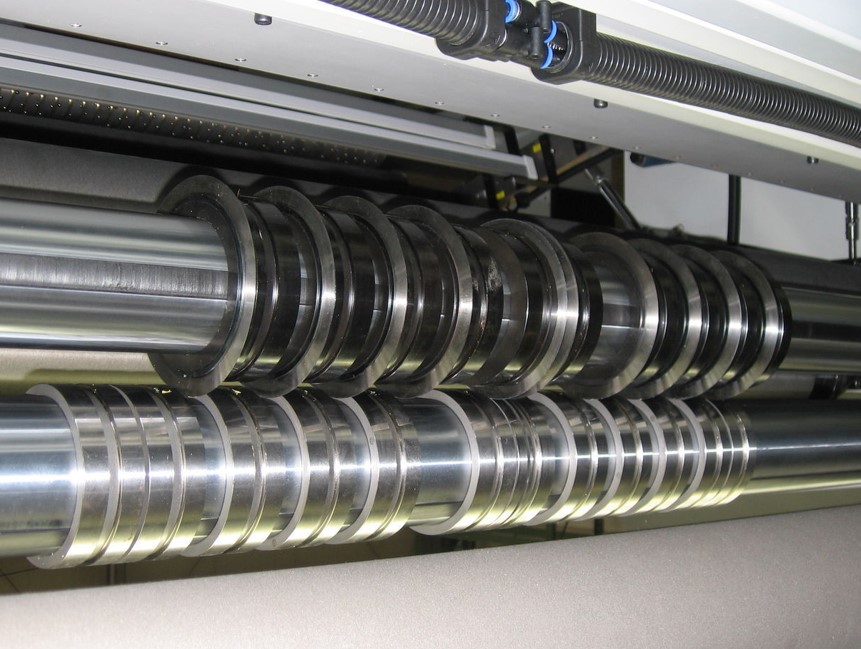 Different locking procedures
Depending on the respective machine concept and, of course, the minimum cutting width to be achieved, different types of lockings can be considered.

Depending on the cutting width, collars with smooth bore type FN are mounted on the slitter shaft with spacers and axially clamped. By dispensing with individual locking, the smallest cutting widths from 5mm can be implemented. Without corresponding knife carriers, however, even cutting widths from 0.5mm can be realized. Learn more about our patented Golden Slit knives.

In the case of collars with individual locking, there is maximum flexibility and no axial clamping on the slitter shaft is necessary. Single locking is as standard from 10 mm possible. The market distinguishes between three types of locking:

Type FG is a locking device with eccentric ring. Tightening and loosening is performed with the aid of a suitable assembly tool, which is available from DIENES.

Type FS stands for a screw fixing. Here a screw presses on the shaft. Fixing and loosening is possible with a screwdriver or a standard Allen key.

Type FR is a locking device with a clamping ring. This type of design is also known as 'multilocking'. The clamping ring enables an even distribution of pressure on the shaft.
Advantages of individual lockings
Cutting tools can be adjusted to any desired cutting position

No need for cutting rings for adjusting the sleeves

Fast cutting width adjustment reduces downtime during programme changes
You might also be interested in