Dished knives
We are happy to offer you individual dimensions in addition to the standard dimensions.
| | |
| --- | --- |
| Outer diameter | 62–200 mm |
| Inner diameter | 40–120 mm |
| Strength | 0,6–4 mm |
| Standard cutting angle | 30° |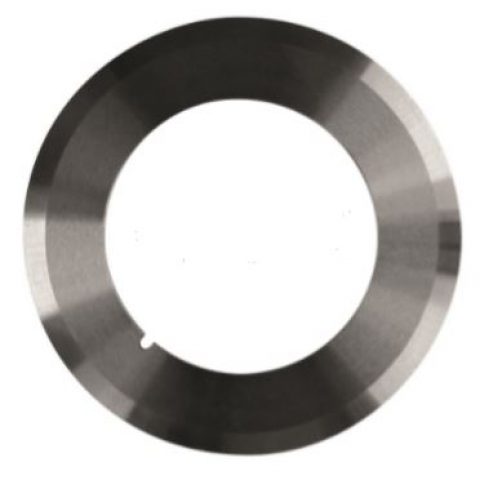 Dished knives from DIENES
The performance data of the cutting machines, such as cutting speed, working width, minimum cutting widths and so on, are crucial when deciding on the right cutting tool. Depending on the area of application, the designs of the actual cutting tools differ into flat top knives and hollow-pressed dished knives with corresponding cutting angles.
Use of dished knives
Shear cutting is known for its universal application and one achieves optimal cutting results in almost all industries with this process. This includes paper, cardboard and paperboard, labels and adhesive tape, but also cable and litho tape. In addition, shear cutting has also proven itself in cutting aluminium foil, non-ferrous metals, film, foil, plastic, non-woven, textile, rubber and composites with a wide variety of material types and thicknesses. The DIENES dished knives achieve very good cutting edge quality at high cutting speed and low cutting dust.
The knives have different cutting bevels, which are determined according to the intended use. There is type NF (normal bevel), SF (slim bevel), SHF (slim hollow bevel) and SPF (special bevel).
Your advantages
Highest cutting performance through optimised surface quality

Best service life due to adapted material qualities

Can be used for a wide range of machine types

Exact manufacturing tolerances

DIENES "CONTROLLEUR" precision ground joint

Regrindable in manufacturer quality
Standard dimensions
Standard materials: chrome-alloyed (1.5 % Cr), high-chrome-alloyed tool steels (12 % Cr) and powder-metallurgical high-speed steels
Standard cutting angle: 30°
Other dimensions, cutting angles and materials on request
| Outer-Ø (D1) mm | Inner-Ø (D2) mm | Thickness (S1) mm |
| --- | --- | --- |
| 62 | 40 | 0,6 / 0,8 / 1,2 |
| 65 | 40 | 0,6 / 0,8 / 1,2 |
| 75 | 45 / 50 / 60 | 0,6 / 0,8 / 1 / 1,2 |
| 90 | 45 / 50 / 60 | 0,6 / 0,8 / 1 / 1,2 |
| 100 | 65 / 70 / 75 | 0,8 / 1 / 1,2 |
| 105 | 65 / 70 / 75 | 0,8 / 1 / 1,2 |
| 130 | 80 / 100 | 1,5 |
| 140 | 70 / 95 | 1,5 / 2 / 3 |
| 150 | 80 | 1,5 / 2 / 2,5 |
| 170 | 90 / 120 | 2 / 3 |
| 180 | 90 / 120 | 2 / 3,5 |
| 200 | 80 / 120 | 3,5 / 4 |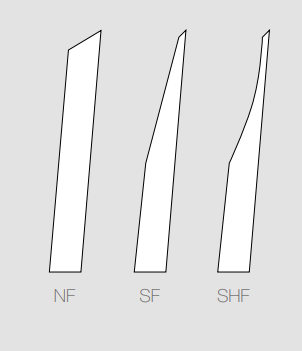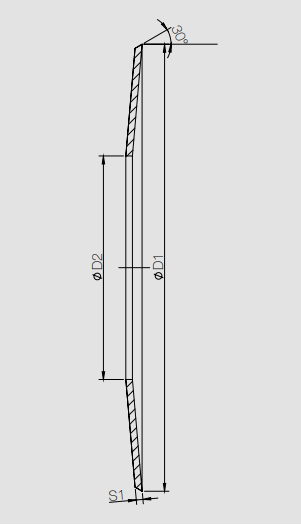 This could also be of your interest