Knife holder DS 8
Technical data
| | |
| --- | --- |
| Cutting width | from 100 mm |
| Knife diameter | 200 mm |
| Web speed | up to 3000 m/min |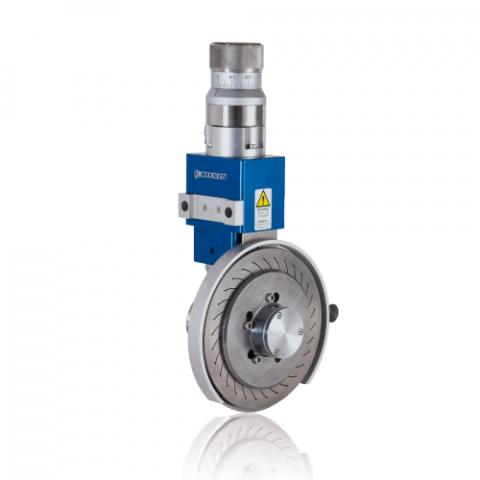 Hightech Knife holder from DIENES
The innovative, pneumatic knife holder DS 8 for shear cutting is the result of 100 years of experience and innovative thinking at DIENES for industrial slitting.
DIENES offers the DS 8 in two versions: the DS 8 L and the DS 8 H. The DS 8 L is the light version of the shear cut knife holder and is used for cutting widths from 100 mm. This knife holder reaches a speed of up to 2000 m/min with a cutting pressure of 10- 100 N. The DS 8 H, on the other hand, has a greater cutting pressure (30-130 N) and achieves higher speeds (3,000 m/min) with a cutting width from 145 mm.
An absolute highlight is that the DS 8 shear cut knife holder enables tool-free knife replacement. This novel and patented system of knife exchange contributes significantly to work and process safety in the company and reduces the set-up time to a fraction of the previous system, the tool-related knife exchange.
The DS 8 knife holder offers the following additional functions
Cutting quality
Operating comfort
Safety
Use of the knife holder DS 8
The Allrounder impresses with its very high stability and service life, a cutting width from 100 mm and a speed of up to 3,000 m/min. It can be used in both directions (right/left head alignment) and thus ensures maximum flexibility. He convinces as a specialist in the paper industry.
The pneumatic shear cut knife holder DS 8 from DIENES with its double-axis guide stands for maximum stability, even when processing the thickest foils and paper types. The cutter head can be used flexibly and comfortably for left and right-hand versions. The drag ring depth adjustment with a scale ensures an optimal setting of the zero point individually for each knife. Thus, after resharpening or cleaning, the desired point can be set again at any time without time-consuming adjustment work to avoid loss of time and quality. The top knife of the DS 8 holder can be positioned exactly and safely to the bottom knife by the patented adjustment slide. In addition, the knife holder is corrosion-resistant.
Version with Senso Control
The DS 8 is also available with the innovative LED depth adjustment from DIENES. This can be used up to a minimum cutting width of 115 mm.
With its highly precise and convenient depth setting and the sophisticated cutter head adjustment, the DS 8 in the Ultimate version proves itself even with difficult cutting materials. Further advantages are the user-friendly, time-saving LED display for setting the overlap depth, the sensor for detecting the cutting edge and the resulting reproducible overlap depth, even if the knives have different diameters.
Our cutting experts will be happy to find out with you which version maximises your productivity and safety standards in your specific application. Please contact us!
Your advantages
Depth adjustment: drag ring with a scale ensures optimum adjustment of the zero point or Senso Control

Powder coating especially corrosion resistant holder body

Flexibility cutter head can be used for left and right version

360° safety hand guard in rest position and safe handling for maintenance and knife change

Variability Knives with different diameters (outside Ø 200 mm, inside Ø 65 and / or Ø 90 mm, for outside Ø 180 mm inside Ø 70 mm) can be used

Suitable also for thickest foils and paper grades as well as other materials

Special version with Easy Change: No tools required for knife change

Quick knife change and reduced setup costs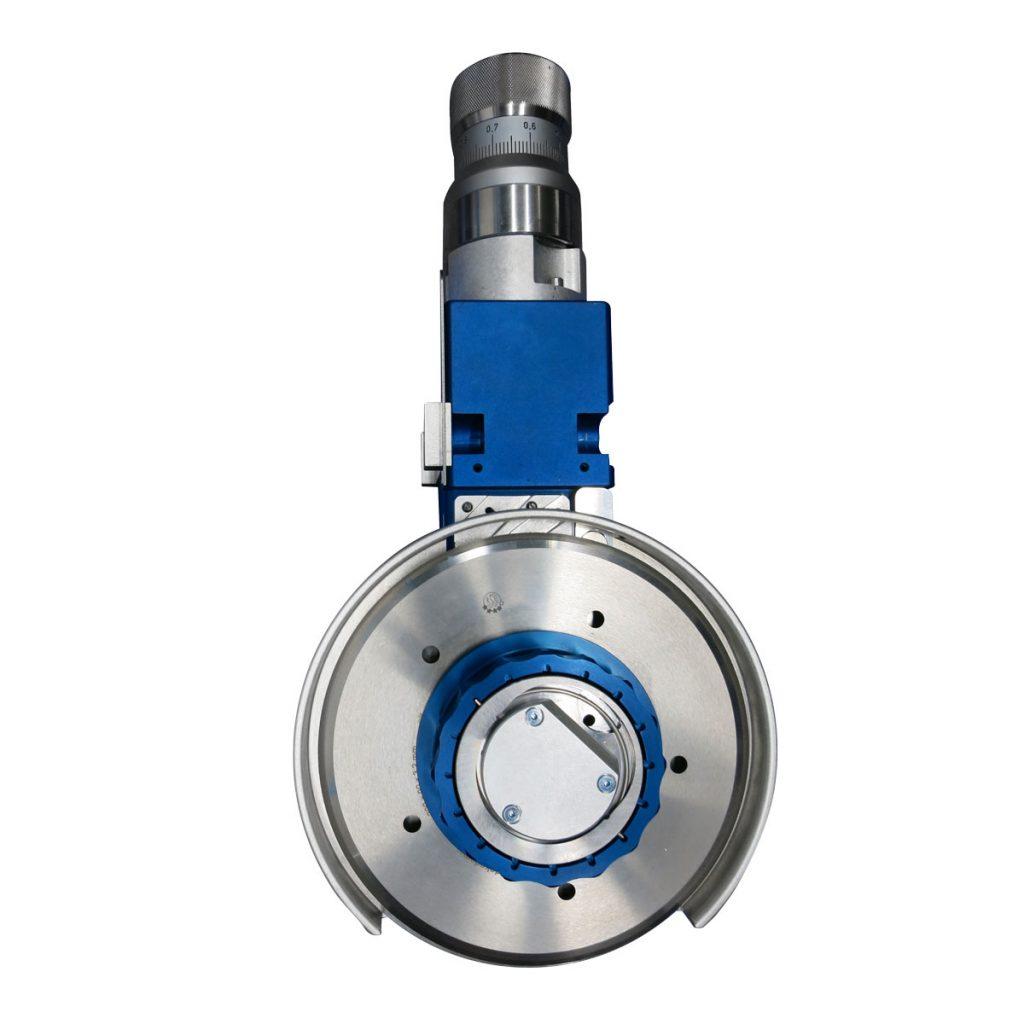 Knife holder DS 8 with Senso Control in use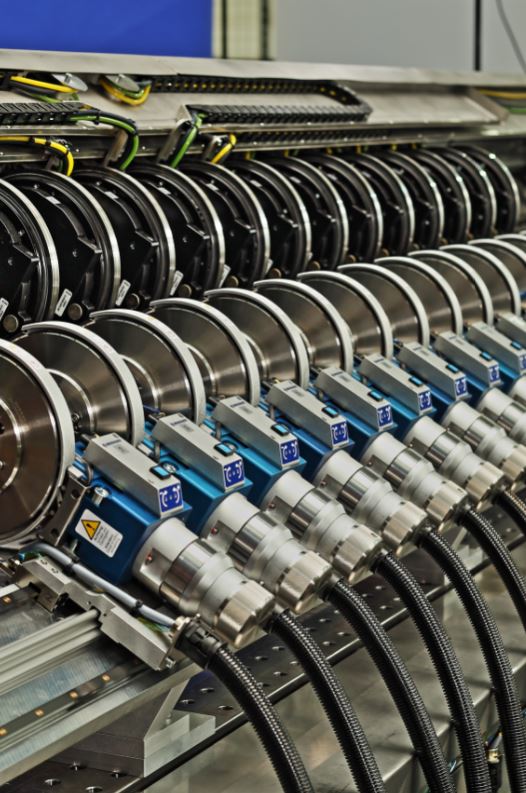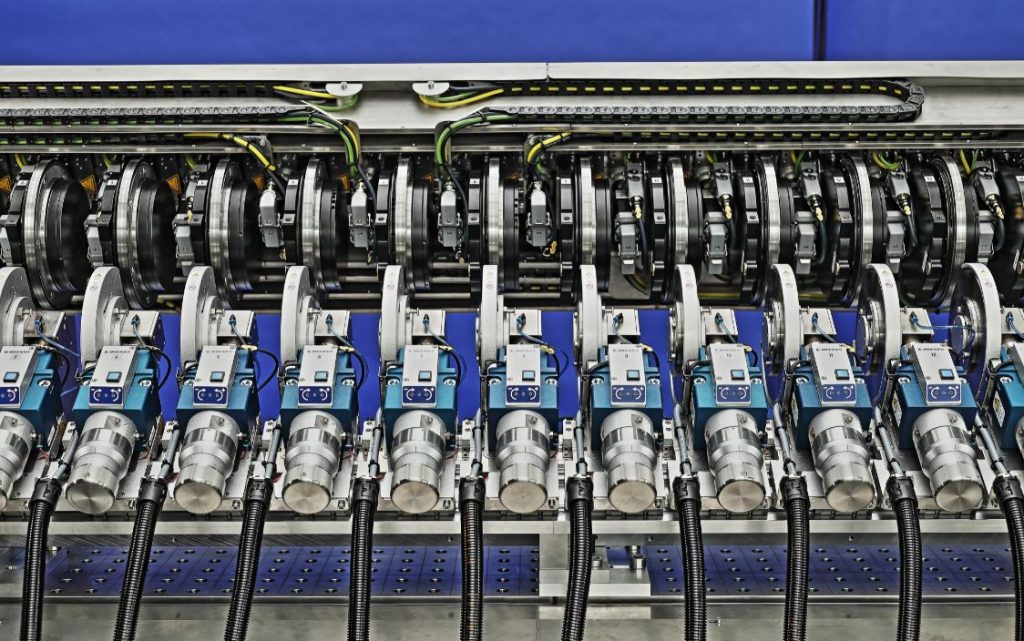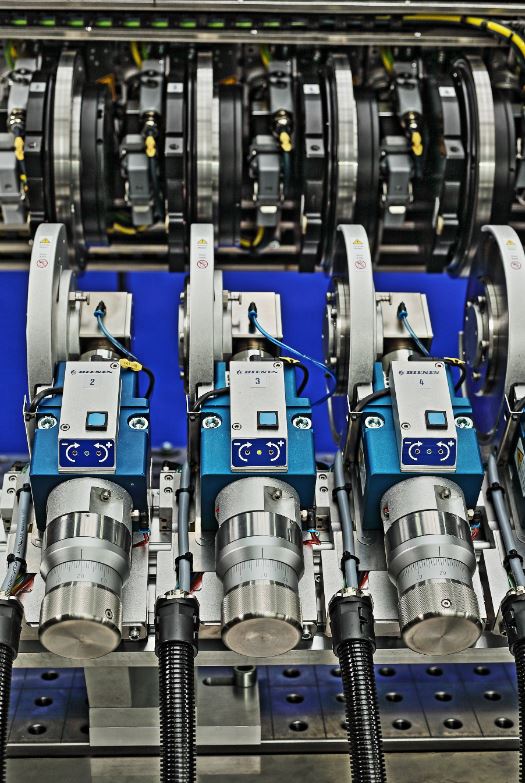 Why DIENES is the right partner for you