Additional option: Easy Change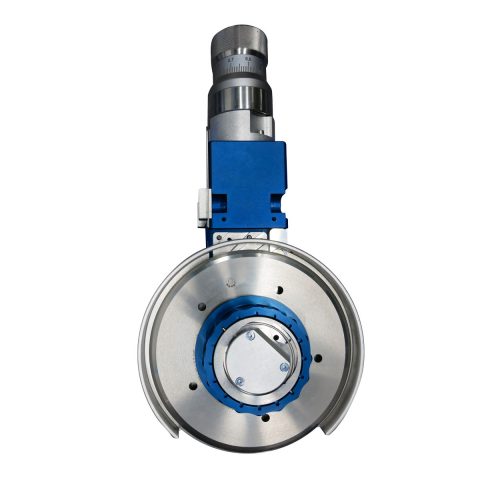 Quick and easy knife change with Easy Change
The novel and patented "Easy Change " system enables a tool-free knife change. This feature does not only contribute significantly to work and process safety but also reduces the setup time to a fraction compared to a tool-related knife change.
Have a look
Application of Easy Change
This is how easy is knife change can be: The knife is easily removed and replaced by unlocking the safety clip and removing the clamping nut. The ring nut is then screwed back onto the knife holder until the locking clip engages in its fixing position, thus securing the ring nut against rotation. The cutter head is additionally secured by the rotational fixation, and the locking clip automatically engages due to the rotational movement.
With conventional knife replacement, it is first necessary to loosen and remove all screws before the knife can be removed. The reason for this is the round fastening holes that are common on knives.
In contrast, the bayonet system allows knives to be changed without completely loosening the screws, thus preventing them from getting caught in the machine. Due to the special geometry of the knife mounting holes, only the fastening screws in the knife carrier need to be loosened. By turning the upper knife to the center position of the slot geometry, it can be removed over the screw heads, preferably with the DIENES safety change tool.
Easy Change is a further development of this system. Here, no tool is required at all. To change the knife, the locking bolt is actuated, after which the clamping nut can be removed effortlessly after unlocking. This function not only simplifies and speeds up the knife change, but also makes it safer.
Your advantages
Quick knife change

There is no need for tools for the knife change

Reduced setup times

Increased safety

Self-locking of the upper knives due to rotation fixation

Reduced risk of injury
Innovations that might interest you