Classic
These reusable knife boxes are available in two different sizes: for knives with a maximum diameter of 150 mm or 200 mm. Depending on the knife thickness, approx. 100 pieces fit in one box.
Transport safety

Protection against damage

Safe storage and clear division into new / resharpened knives

Turning info panels "Sharp / Blunt" and "Sender / Recipient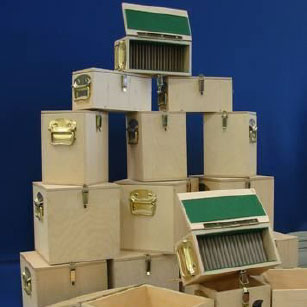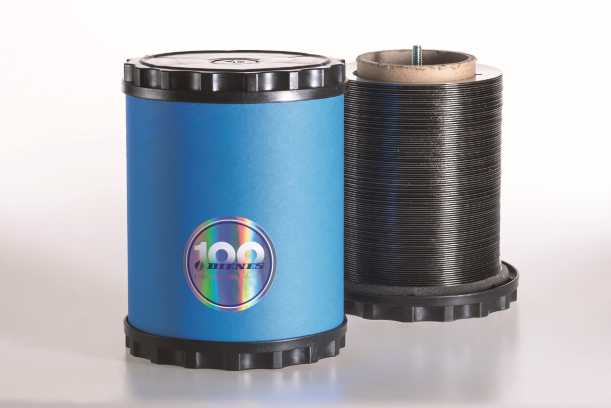 DIENES Anniversary Box
The innovative transport and storage box from DIENES protects your knives from harmful influences and protects the environment and resources. There are two different variants; for knives with a diameter of 105 mm and for those with a diameter of 150 mm.
The anniversary box from DIENES is designed as a reusable, transport and storage box. It protects against corrosion and is ideal for shipping new or regrinded products as well as for space-saving and safe storage. Our anniversary box is available in two sizes.
Corrosion resistance: Rust protection of the knives

Centred on the inside: additional protection for the knives

Space saving storage

Breakage resistance

Suitability for postal mailing
XL transport boxes
The XL knife boxes from DIENES allow a safe transport, as well as a clear storage and is available in several sizes. Made of plastic, the boxes are lightweight, but can still be loaded with a load capacity of up to 500 kg. They have a lid that can be completely removed. A hinged door on the side enables back-friendly loading and unloading. Without cumbersome bending forward and with little effort, the knives are removed with a secure grip and without slipping. In addition to damage-free transport of new and regrinded products, the XL transport boxes also ensure a high level of operating comfort and thus contribute to occupational safety.
Safe transport

Easy loading and unloading due to side hinged door

Lightweight

Foldable

Protection against dirt and other environmental influences

Well arranged storage

Professional, safe and clean storage

More safety when unpacking the knives

Easy to keep clean

Compatible with various handling systems