Rotary shear blades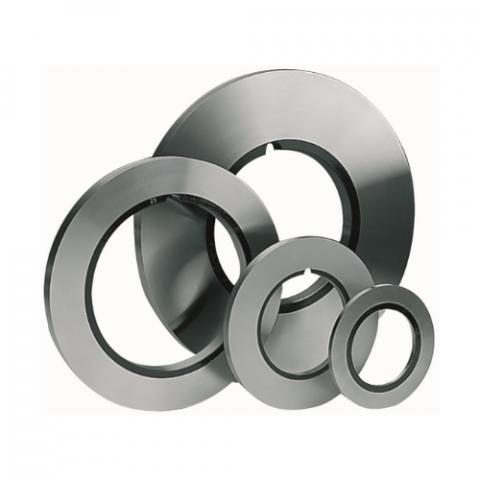 Rotary shear blades
DIENES Group member Neuenkamp is one of the leading specialists in the field of rotary shear blades. You can obtain them from forged tool steels, high-speed steels, Neuenkamp special materials and powder metallurgically produced high-performance steels. The use of rotary shear blades is only possible under certain conditions of the cutting equipment, which is why an individual consultation is indispensable here.
Use of the rotary shear blades
With rotary shear blades, unsurpassed quality can be achieved due to non-contact cutting. The cutting material is separated here with the aid of a kerf. Two cutting edges, which are offset by a kerf and penetrate the material from different directions, cut through the material. The kerf is thus a decisive factor for the quality of the cut. It is determined in each case depending on the material to be cut.
In the meantime, a large number of cutting operations have been carried out with this rotary shear blade cutting process. The advantages over conventional methods lie in the non-contact and force-free cutting process at high cutting speeds. With non-contact cutting complex parts with the highest demands on burr freedom and dimensional accuracy can be produced economically. For example, roller shear blades are used for slitting metal strips with strip thicknesses of approx. 0.01 to 16 mm and tensile strengths between 300 and 2400 Newton/mm².
DIENES is your specialist for design and execution, also for slitting lines with expanding precision shafts and for automatic placement systems.
Your advantages
Optimised cutting process

Improving product quality

Highest precision

No mechanical force

Optimum material utilisation

Great flexibility
Tolerance data
| | |
| --- | --- |
| Standard tolerances from | ± 0,001 µm |
| Ultra-precision tolerances from | ± 0,0005 µm |