Flat top knives
We are happy to offer you individual dimensions in addition to the standard ones.
| | |
| --- | --- |
| Outer diameter | 90–220 mm |
| Inner diameter | 60–180 mm |
| Strength | 1,2–5 mm |
| Standard cutting angle | 30° / 45° / 60° |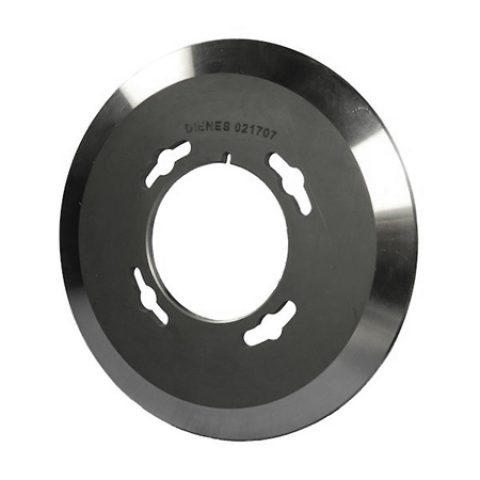 DIENES flat top knives
While dished knives are usually used at low and medium machine speeds, flat top knives are used at higher speeds. Especially for high-performance winders, among others in the paper industry, these precision knives have become the standard over years.
Use of flat top knives
The profile and thickness of cutting bevel are determined by the type of material to be cut. An essential criterion for the selection of the cutting edge geometry is the displacement of the material when the knife plunges into it. Bevels with different geometries and thicknesses are therefore selected in relation to the material. Cutting edge geometries are divided into type NF (normal bevel), SF (slim bevel), SHF (slim hollow bevel) and SPF (special bevel).
It is recommended to make sure that the outer diameters of top and bottom knives are different. This is the only way to ensure that the wear surfaces do not always meet in the same areas during rotation.
Your advantages
Highest cutting performance due to optimised surface quality

Best service life due to adapted material qualities

Can be used for a wide range of machine types

exact manufacturing tolerances

DIENES precision grinding Controlleur or Controdur (for solid carbide knives)

Regrindable in manufacturer quality
Standard dimensions for flat top knives
Standard materials: chrome alloyed (1.5% Cr), high chrome alloyed tool steels (12% Cr) and powder metallurgy high speed steels, in special cases in solid carbide design.
Standard cutting angle: 30° / 45° / 60 °
Other dimensions and materials on request
| Outer-Ø (D1) mm | Inner-Ø (D2) mm | Thickness (S1) mm |
| --- | --- | --- |
| 90 | 60 | 1,2 |
| 105 | 65 / 70 / 75 | 1,2 / 1,5 / 2 |
| 150 | 80 / 120 | 1,5 / 2,5 |
| 180 | 70 | 3 / 5 |
| 190 | 75 | 1,5 / 2 / 3 |
| 200 | 65 / 70 / 80 / 90 | 2 / 2,5 / 3 / 5 |
| 220 | 80 / 90 / 120 / 180 | 3 / 5 |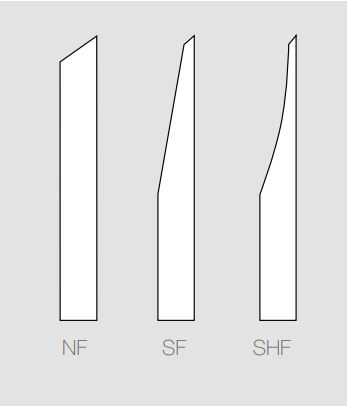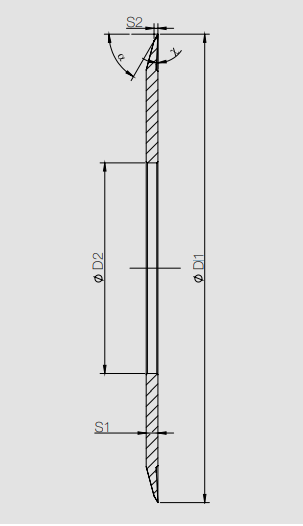 Our offers for you