Paper cutting knives, tack cutter, three-knife trimmer and trimmer knife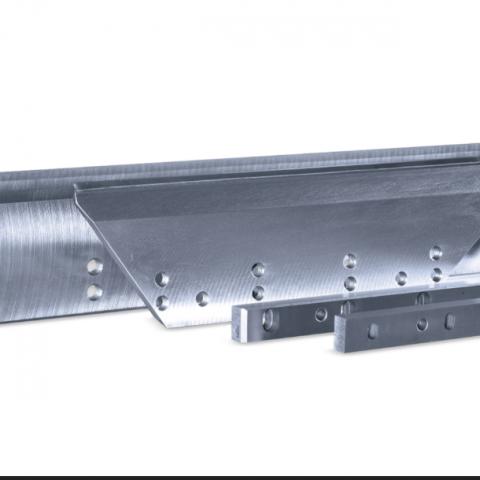 Straight knives from DIENES
With our long parts, DIENES customers can rely on the lowest manufacturing tolerances in the µm range. Polished cutting edges also ensure an efficient reduction of dust and operating noise and additionally contribute to an increase in tool life. Close monitoring of production, detailed control reports and continuous further development also ensure the highest level of quality at DIENES in the straight knife sector. All products, including our guillotine knives, stack cutters, three-knife trimmers and trimmer knives, are supplied individually after detailed consultation with the customer.
Our knives are manufactured in all qualities in compliance with the tightest tolerances. The tool steel knives are absolutely uniformly hardened, repeatedly straightened, cleanly machine-sharpened and honed. The finish is the same for all qualities carefully.
Use of the guillotine knives, stack cutters, three-knife trimmers and trimmer knives
Our guillotine knives, stack cutters, three-knife trimmers and trimmer knives are designed for optimal industrial use, especially in the paper, packaging and plastics industries. Three-knife trimmers and trimmer knives are at home in advertising printing, such as cutting flyers.
We manufacture guillotine knives for perfect cutting in the paper and pulp industry and print finishing. There are three main cutting types and all others work according to one of these three basic variants.
The punching cut in cutting bar is used in all guillotines-quick cutters and 3-knife automatic machines. The system is based on the fact that the knife makes a downward pulling movement and plunges into a plastic bar built into the machine table.
In addition, this type of knife is used in the shear cutting process. Here, the upper knife works against the lower knife, whereby the upper knife is movable and the lower knife is fixed. This system is used almost exclusively in print finishing (trimmers). Trimmer knives are usually manufactured in high-alloy tool steels (WS 1.2436, 1.2979 or DPM).
There is also the rotary cut. This is characterized by the rotating upper knife that works against the fixed lower knife. The upper knife is inserted into the knife drum in a twisted manner, which creates the shearing angle that reduces the cutting forces to a minimum.
General explanation of the paper cutting knives
The structure of the steeled knife is specified according to DIN 8869. Deviations from this standard are possible. The steel-plated knife consists of a carrier material and a hardened cutting surface. The hardened cutting surface, in turn, can vary and be designed in a wide range of qualities:
High-performance steel CRG 10 (higher alloy)
SPEED-o-DUR (high-speed steel)
HM (carbide)
FK-HM (fine grain carbide)
These individual qualities can be used variably, depending on the material to be cut and the size of the run. In recent years, SPEED-o-DUR (high-speed steel) and carbide quality have become increasingly popular, as the cycle rates of the machines have increased significantly.
The use of the different knife qualities depends on the application and the expected service life. It is important to note that carbide-tipped paper knives can only be reground with diamond grinding wheels. Furthermore, it is essential to ensure that the appropriate cutting bar is used for the respective knife quality.
Your advantages
Paper knives must meet the highest standards in terms of material selection. This is ensured by the use of powder-metallurgical DPM special steels, carbide and ceramic materials. "Longlife" is the name of the small but subtle difference in the professional use of paper knives. "Longlife" is a technologically unique finishing method for cutting tools. This innovation leads to a significant reduction in cutting dust and, not least, to an increase in knife service life.
Individual tool design

Professional tool and process advice

All tools are usually regrindable or reworkable
Tolerance data
| | |
| --- | --- |
| Tolerance parallelism | Up to 0,005 mm |
| Tolerance flatness | up to 0,02/1000 |
| Tolerance degree | up to 0,02/1000 |
| Tolerance angularity | up to 0,015 mm |
How to take care of a guillotine cutter
Careful maintenance of paper knives includes, first and foremost, proper resharpening. If possible, this work should therefore only be carried out by a professional to ensure that the knives are treated correctly. It is important to use suitable abrasives, such as segments, grinding rings or cup wheels, and to cool the knife sufficiently. Regrinding the knife in good time increases its service life.
Pulling off the knife edge is the key to success. It requires a high degree of dexterity when guiding the honing stones. Only "skilful" honing guarantees a razor-sharp cut. With the help of illustrations we try to show how it is done correctly. We recommend rectangular whetstones, preferably as good as new. Whetstones with trough-shaped wear must be replaced, otherwise they will damage the knife edge.
First remove the whetstone with the coarse side of a combination stone.
Preliminary honing with a coarse-grit combination stone.
Finish honing with a fine-grit oil stone.
Always keep all honing stones damp with paraffin so that they remain grippy. When honing, the stone must be guided circularly and lightly. Avoid strong, uneven pressure. The stone must lie flat on the cutting side (steel side), under no circumstances should it be angled, as this would take away the cutting edge and cause a so-called overcut when cutting. On the bevel side, the whetstone should be guided at a slight angle with a little more pressure. A woolen cloth, lightly passed over the cutting edge after honing, will show any small grooves that may still be present. The following sketches show the incorrect and correct guidance of the whetstones.