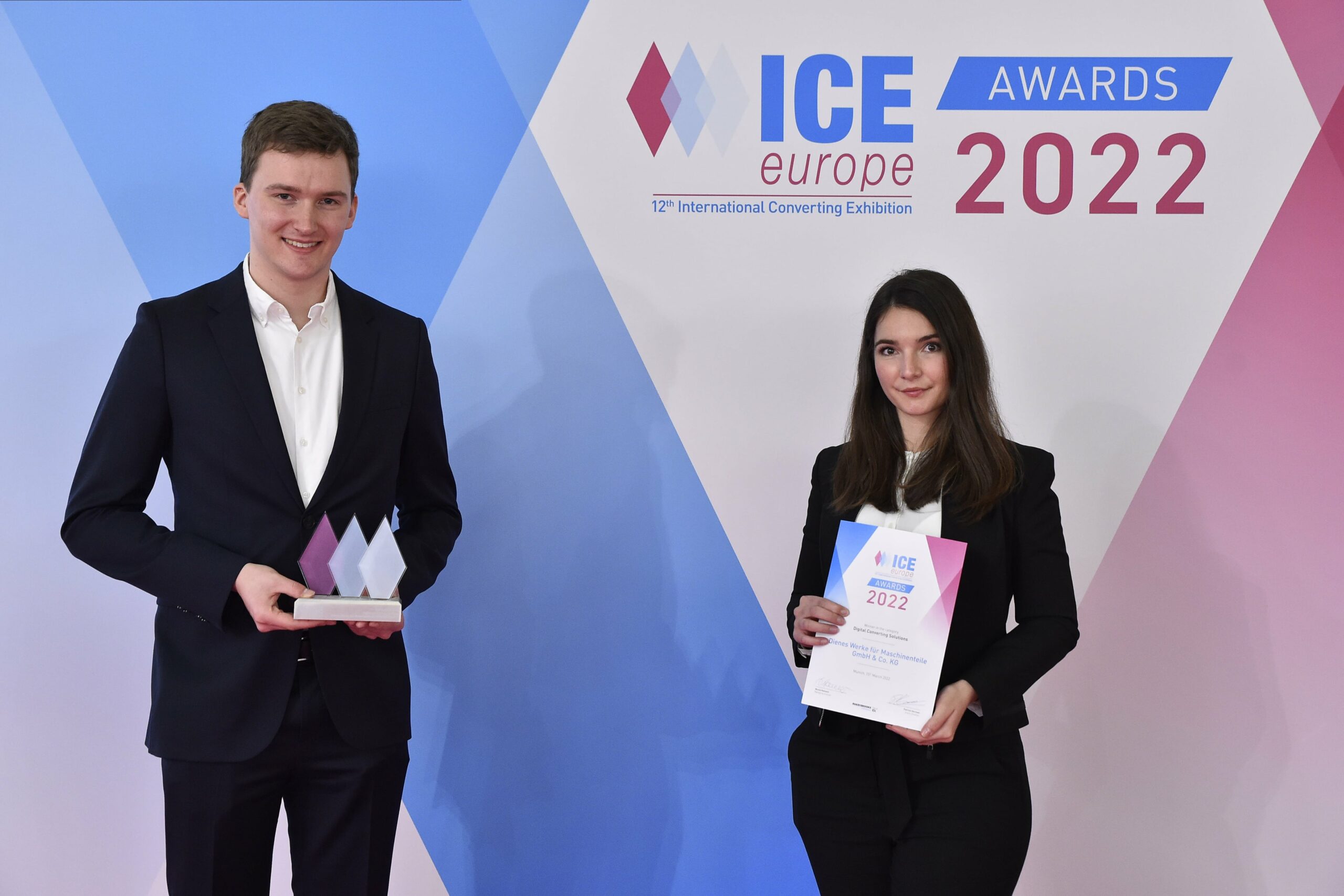 DIENES receives the ICE Award in category "Digital Converting Solutions" at the ICE Europe 2022 in Munich
The DIENES company now looks back on a 109-year history and is characterized by special competence and expertise in the fields of industrial slitting, regrinding and automation solutions. The product portfolio includes both industrial slitting tools and knife holders, as well as a wide range of services and support. Solutions from DIENES Werke are used, for example, to cut paper, foil, nonwovens and film into smaller or ready-to-sell formats.
The traditional and family-owned company DIENES Werke GmbH & Co. KG exhibited and presented its knives, knife holders, slitting systems, as well as various services in the field of industrial slitting at the leading international trade fair for the converting and processing of paper, film and foil in Munich (eng. "ICE – International Converting Exhibition") from March 15 – 17, 2022. The exhibition took place in Germany for the twelfth time and is considered the most important professional forum for the converting industry. The core business in the field of converting is the processing of flexible and web materials.
DIENES was awarded this year's ICE Award in the category "Digital Converting Solutions" for its TEOC "AddOn", which is part of the TEOC.Holder CONCEPT presented in Munich. TEOC, short for "The end of coincidences", stands for DIENES' new brand in the Industry 4.0 segment. The TEOC "AddOn" for knife holders is the latest development from DIENES. The integration of electronics, sensors and connectivity enables an upgrade from conventional knife holders to the TEOC system.
TEOC is already implemented and used on DIENES automatic slitting lines. The system enables the acquisition, analysis and usability of various data parameters. TEOC enables system integration in networked production systems and real-time data recording of various production parameters. This not only takes into account the advancing digitalization, but also sets a milestone in terms of setup time reduction, tool life increase and error prevention. Based on the cause-effect relationships identified by TEOC, targeted measures for optimization and error prevention can be derived within production processes.
Receiving the ICE Award 2022 in the category "Digital Converting Solutions" has shown that DIENES continues to be considered a pioneer and innovation leader in the field of industrial slitting.
We would like to thank everyone who voted for DIENES. Our thanks go in particular to our colleagues, customers, partners and trade fair visitors.
Similar topics