Knife Holder PSGs DF 50
Technical data
| | |
| --- | --- |
| Slit width | from 50 mm / 150 mm |
| Knife diameter | 130 mm (optional 150 mm) |
| Web speed | up to 2000 m/min (130 mm knife) / up to 1500 m/min (150 mm knife) |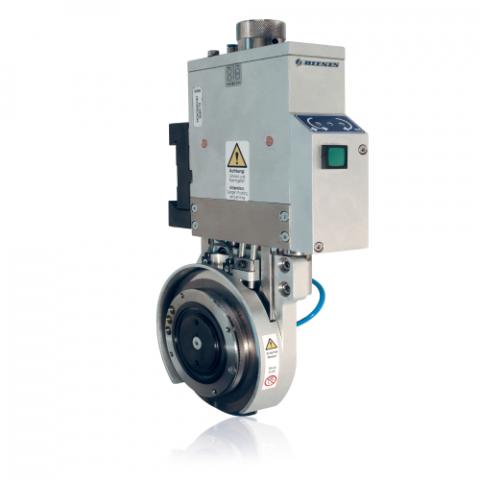 Shear cut knife holder from DIENES
Our Elite bestseller! This shear cut knife holder type of the Elite class meets the demand for small overall width with the greatest possible stability. This also applies to high cutting speeds thanks to the backlash-free, vibration-damping vertical and horizontal guide systems. The PSGs DF 50 knife holder has a separate compressed air supply for the vertical and horizontal movement and thus enables maximum flexibility.
DIENES knife holders are manufactured in a modular system, i.e. different subassemblies allow an individual configuration. Optionally, this knife holder can be equipped, for example, with a CSL cutter head or the Senso Control depth adjustment.
The knife holder PSGs DF 50 offers the following additional functions
Slitting quality
Operating comfort
Safety
Use of the knife holder PSGs DF 50
The forced sequence control for the compressed air supply, which is also part of the DIENES scope of delivery, ensures that the functional sequences of our knife holder type PSGs-DF are carried out in the correct order with regard to vertical and horizontal stroke. Due to the two independent compressed air connections, we recommend the forced sequence control to ensure a flawless production process.
The PSGs DF is versatile and can be used for cutting tape, labels, rubber, nonwoven and textile as well as paper, cardboard and printing. Optionally, the PSGs-DF 50 Elite holder can be equipped with the CSL – Constant Side Load technology. This technology enables perfect cutting quality, even when cutting battery foil and aluminum foil.
Thanks to CSL technology, the knife contact force is adjusted to newton precision, which is fundamentally reproducible. This results in minimal dust accumulation and optimum knife service life, both for top and bottom knives. Another key feature is the two-piece design of the knife holder, which makes it possible to adapt the holder with minimal effort for attachments to T-slot crossheads, dovetail crossheads, linear guide systems and other systems.
Version with Senso Control
The PSGs DF 50 is also optionally available with the highly precise and convenient Senso Control depth adjustment.
Our experts will be happy to find out which version is the right one for your specific application during personal discussions and tests. In this way, you can optimize your cutting results and at the same time achieve drastic cost savings through increased tool life and reduced setup times.
Version for cutting dropouts
This version has been specially developed for cutting dropouts and, like the standard variant of the PSGs DF it is equipped with a 360° safety hand guard and the Easy Set adjustment slide .
Due to the immersion depth of the dished knife, two different cutting edges appear during the shear cut. Optimum cut quality is achieved on the cutting side. At the back of the knife, however, the material web is overstretched and therefore exhibits a deteriorated cut quality, depending on the material being cut.
If all optimization attempts with regard to knife setting and knife geometry adaptation are not successful, the last option is to cut out the narrowest possible dropout strip. Especially with very high quality demands on the cut edge the aim of the outage strip is that the "good" side always remains on the product. By using two mirror-inverted knife holders, this can be achieved and the dropout strip can be reduced to a minimum at the same time.

It is suitable for a wide range of cutting materials. It can be used in the textile and paper industry as well as for cutting carbon, fiberglass, composites, rubber, film and plastic as well as adhesive tape and labels.
Version with motor driven knife
In this version, the PSGs DF is particularly suitable for cutting aluminum foil. Due to the driven upper knife a very good cutting edge quality is achieved and on the other hand the tearing of the aluminum foil is prevented. In addition, the PSGs DF with the motor-driven knife is also used for cutting battery foil / separator foil. This version can be used from a cutting width of 150 mm.
Version with quick change head (optionally also with motor-driven knife)
This version of the PSGs DF is one of the DIENES high-performance products due to its high-tech features. It is equipped with a quick change head for shear and razor blade cutting. It also features Constant Side Load Technology for constant cutting pressure.
The PSGs DF CSL WKR / WKS is suitable for cutting aluminum and non-ferrous metals as well as film, foil and plastic. But this knife holder can also be used perfectly for cutting paper, cardboard, printing and adhesive tape / labels. Depending on the application and holder design, different minimum cutting widths can be implemented.
In addition, the PSGs DF with quick-change head can also be equipped with a motor-driven knife. This is a special solution for cutting ultra-thin aluminum foil. In this version, however, it can also be used for cutting special materials such as battery foil and special products from a cutting width of 150 mm. The cutter head is motor-driven rotationally so that slippage is avoided.
Your advantages
Reproducible knife setting forces that can be adapted to the cutting material

Optimum cutting edge quality even with difficult cutting material and high speeds

Increase in knife service life due to backlash-free, vibration-damping guide system

Double guide ensures high stability

Separate compressed air supply for vertical and horinzontal movement

Optional features can be retrofitted

Maximum flexibility due to various holder options
We continuously develop our knife holders and adapt them to the latest requirements of the cutting industry. From the standard product to the individual special solution, we can thus meet any cutting technology and customer-specific requirements.
DIENES also manufactures top and bottom knives needed for shear cutting, as well as manual, semi-automatic and automatic cutting systems.
Separating pins
For special applications in the nonwoven sector, we also offer the PSGs DF 50 with separating pins, also known as separating fingers. These can be operated mechanically or pneumatically and are used to separate two webs of material running into each other.
Please contact our experts if this additional option could be interesting for your application.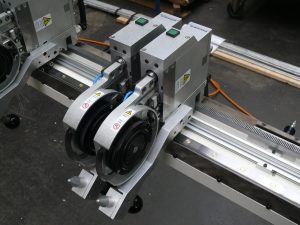 More impressions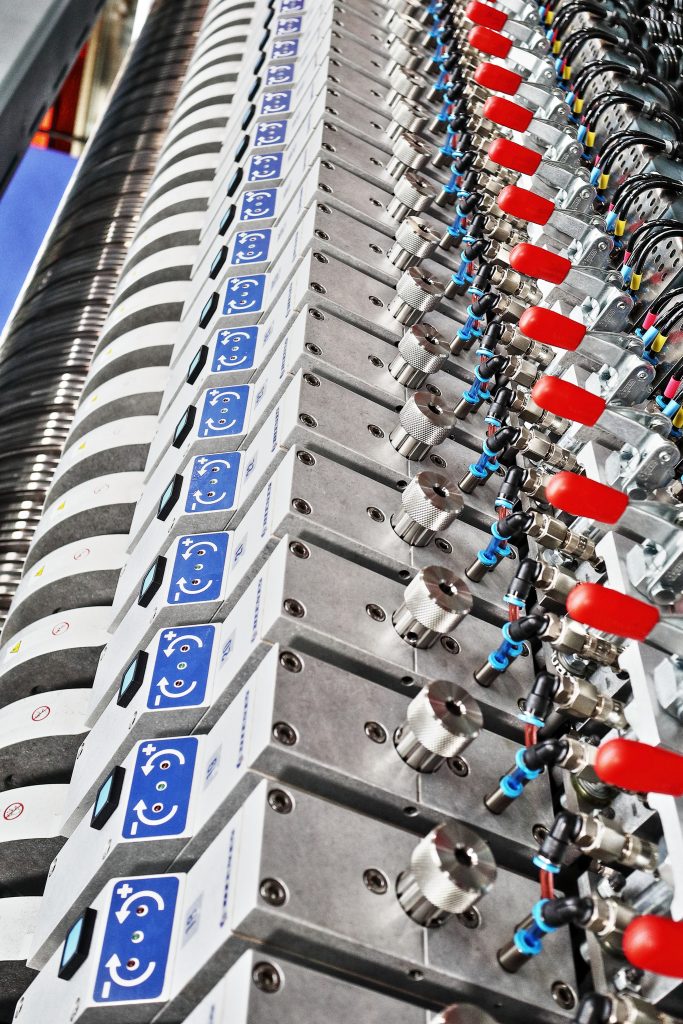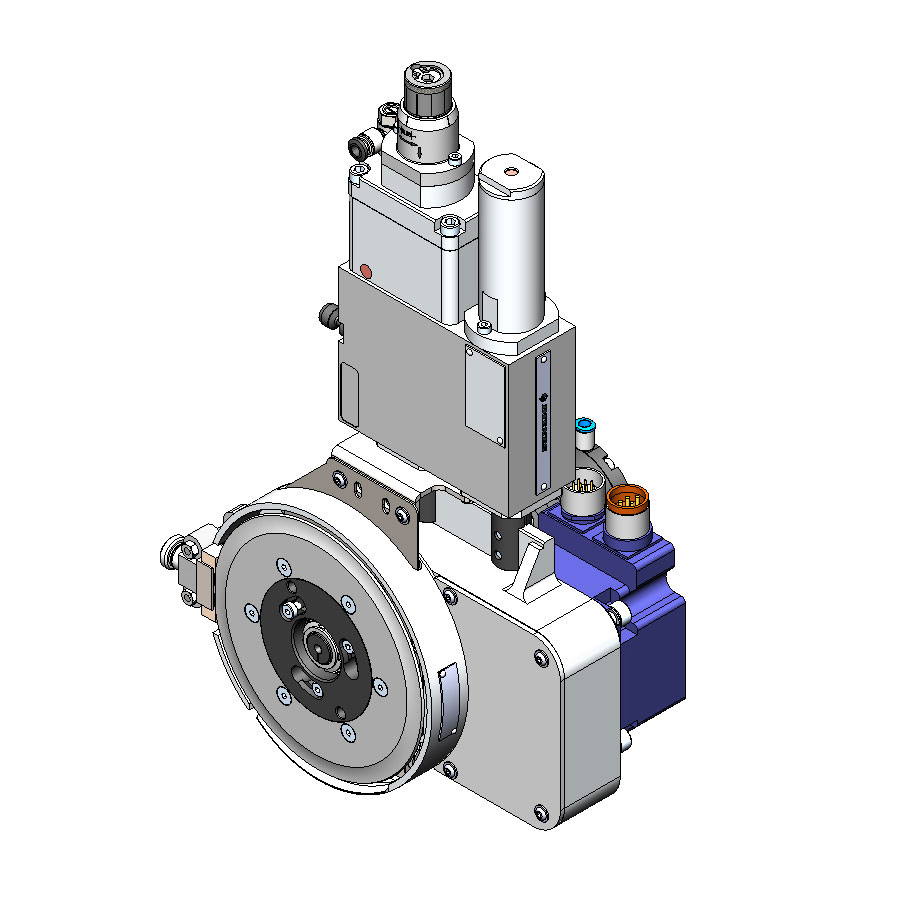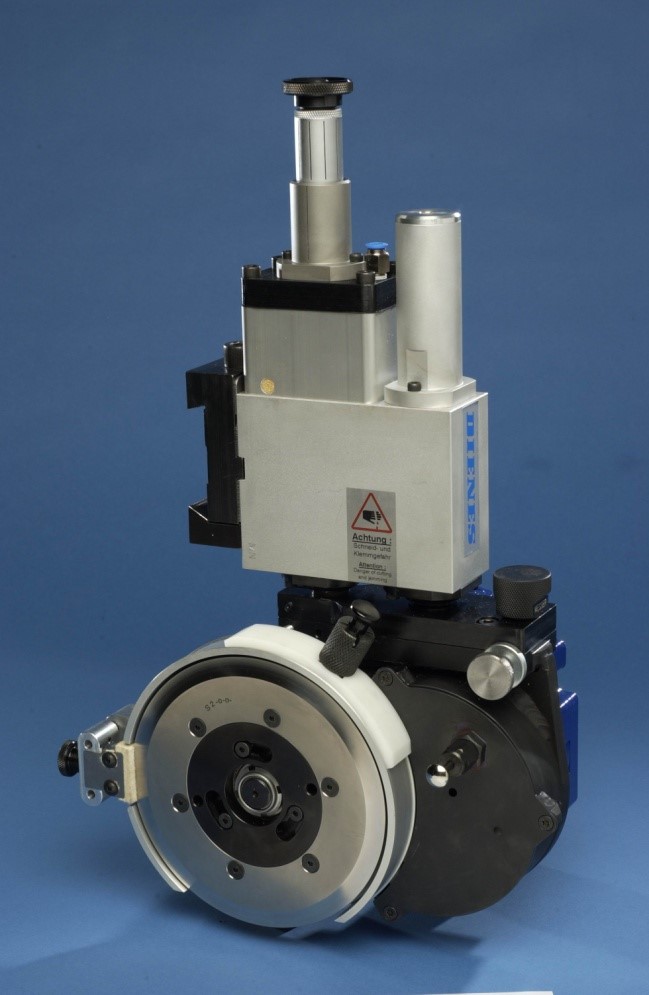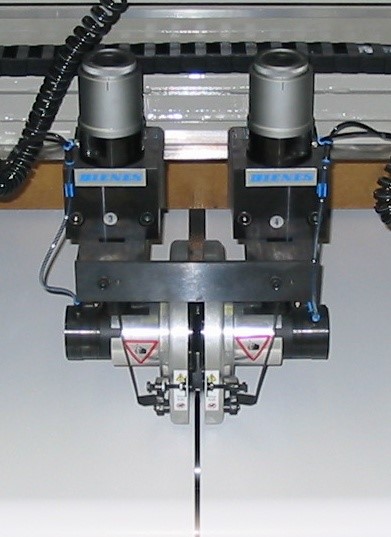 That might also be of your interest