Additional option: Quick Clamp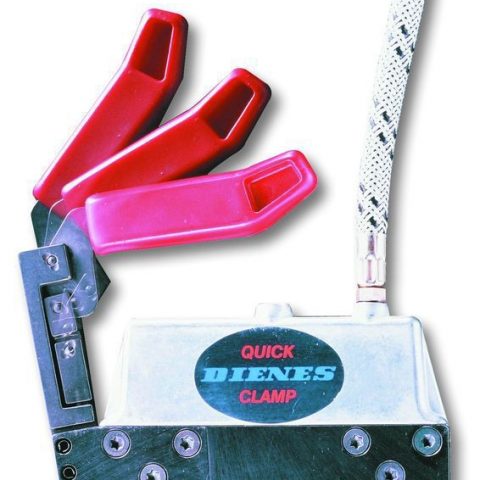 Quick Clamp with DIENES
With the handy additional function "Quick Clamp", knife holders on longitudinal cutting machines are quickly and easily fixed, interchanged and positioned. It is also known as the quick clamp system. The additional function is available for crush cut and razor blade knife holders as well as for shear cut knife holders. It fits on any crossbar and ensures infinitely variable clamping force.
We would be happy to retrofit your existing knife holders with the quick-clamping system, if possible. Contact us for further details.
Use of Quick Clamp
The fastening lever is opened with a flick of the wrist, the knife holder is positioned on the crossbar according to the cutting width specifications and the lever is closed again. The knife holder is immediately fixed securely and precisely.
Moreover, no fastening tool is required. Its quick-release mechanism eliminates sideways movements and the loosening of the holder during the cutting process and guarantees optimum cutting quality with a high level of operating comfort.
For shear-cut knife holders with linear guide systems, the quick-clamping system is used to detach or dock the respective knife holder from the adapter without tools. This measure is taken when replacing the knives or when repairing and maintaining the knife holder. The complete adapter remains on the crossbar. The quick release replaces the fixation of the crush knife holder on the crossbar with a slotted screw.
So funktioniert's
Swing the holder with opened handle from below onto the dovetail rail
Ensure right-angled alignment and close the Quick Clamp
The Quick Clamp engages perceptibly
This is how it works
Advantages
Ideal supplement for cutting systems

Suitable for crush and razor blade cutting as well as scissor cutting

Right-angled clamping of the holders

Minimum set-up time

Tool-free format change / knife holder change

Safe, fast, retrofittable and precise
This might also interest you