Profile and perforating knives
We are happy to offer you individual dimensions in addition to the standard ones.
| | |
| --- | --- |
| Outer diameter | 50 – 150 mm |
| Inner diameter | 19 – 70 mm |
| Strength | 2,8 – 6,35 mm |
| Standard cutting angle | 30° / 45° / 60° |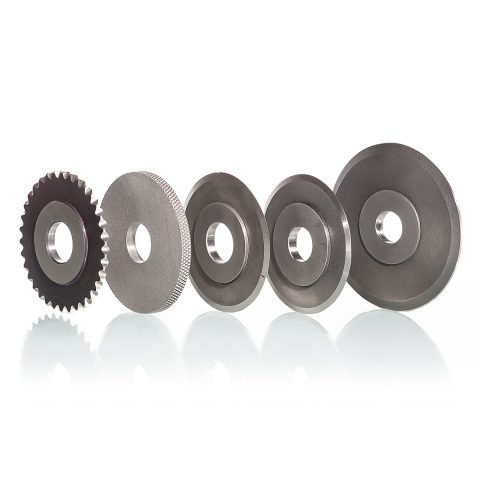 Profile and perforating knives as well as embossing rollers from DIENES
Items for everyday use, such as a wide variety of packaging, paper, textile, or even nonwoven and tissue products are cut, perforated, embossed, or given a specific cut edge profile with DIENES machine knives. The perforations make it possible to cut out or tear off by hand. We know this from continuous forms of paper, cellophane, various foils, cardboard, packaging, toilet paper or wet wipes. Our profiling knives (wave and zigzag shape) and perforating knives are suitable exactly for these materials.
Whatever the particular application of DIENES knives, the aim is to optimize machine running times and thus improve effectiveness and profitability in the production process. There are many different designs of perforating squeezing knives, which are manufactured to order and take the respective desired perforation into account in the design. In special cases, perforation is also successfully carried out using the shear cut method, for example with filter materials.
A special feature in the DIENES product range are embossing rolls that combine several layers of nonwoven or tissue. The surface structure of the embossing rolls is visible on the surface of the material.
Using profiling and perforating knives
We are experienced in cutting with perforating squeezing knives and profile squeezing knives in wave or zigzag form and embossing rollers and the most diverse designs. The smallest possible pitch is 72 teeth per inch, which is the so-called microperforation.
Profiling knives and perforating knives ensure the widest possible range of application for products that stick together and are later separated by hand. Such products are for example toilet paper, paper towels, continuous forms and so on. In the textile sector, on the other hand, the profile shape is designed to eliminate fraying of the cut edges.
Another technique enables a controlled creasing depth by means of a defined cutting height. The raised, sharply ground knife edge cuts through the top layer, while the recessed, cylindrical outer surface rests on the material web and prevents further penetration of the cutting edge.
A typical field of application for profile knives (zigzag or corrugated) is the production of tubular bag packaging. The separating teeth, which give the bag a predetermined breaking point, are designed with DIENES in such a way that the contents are effectively protected on the one hand, but on the other hand the package can be opened without much effort.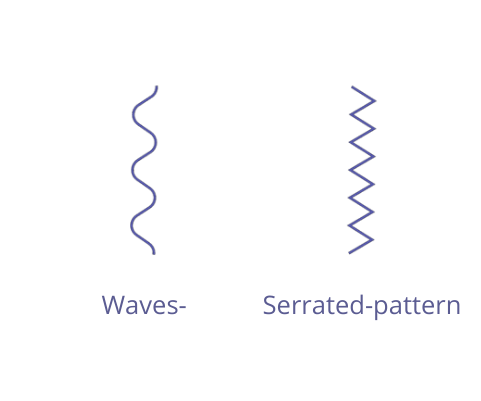 Your advantages
Highest cutting performance due to optimised surface quality

Precise cutting edge geometry due to DIENES profile grinding process

Cutting radii and angles adapted to a wide range of materials

Can be used for a wide range of machine types

Special geometries to prevent hooking during shear cutting

Micro-perforations can be produced on request

Compatible with various blade holders and cutting systems of common makes

Regrindable in manufacturer quality
The DIENES perforation monitoring
Wherever speed plays a role, the shear cut is used in the perforation cut, up to 1500 m per minute. Here, the hooking of the teeth can cause the knives to touch down unintentionally, thus shifting the perforation pattern incorrectly.
If the faulty production is only detected at a late stage, enormous additional costs incur. To counteract this, DIENES, the inventor company, has developed a smart solution for its customers that triggers an immediate error message or an emergency stop signal in the event of a pressure drop. On the picture we see a monitoring device, which signals an undesired movement in the cutting operation by means of an LED display, optionally also with an acoustic signal.
Immediate detection of the knife holder movements
Perforating cut: 100% control of the cutting position
Only movements above a limit specified by normal operation are signaled
Variable positioning, so that adaptation to the respective machine conditions is possible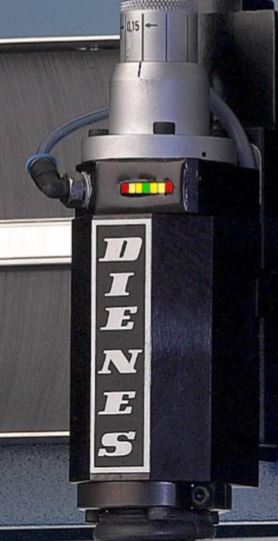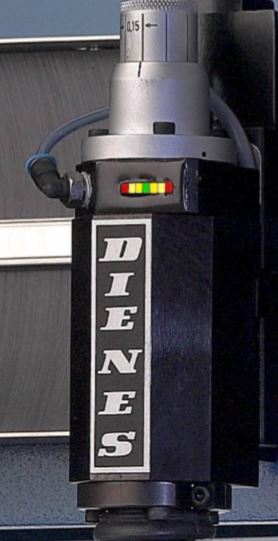 Standard dimensions
Other dimensions and materials on request.
| Outer-Ø (D1) in mm | Inner-Ø (D2) in mm | Thickness in mm |
| --- | --- | --- |
| 50 | 19 | 5,2 bis 6,35 |
| 76,20 | 19 | 5,2 bis 6,35 |
| 76,96 | 19/ 22 | 5,2 bis 6,35 |
| 100 | 19 | 6,35 |
| 100 | 70 | 2,8 |
Cutting tests in our laboratory to determine the optimum knife geometry are also possible. From standard products to individual special solutions, we can meet any customer-specific requirements.
You might also be interested in