Knife holder PSG DF BOX
Technical data
| | |
| --- | --- |
| Slit width | from 145 mm |
| Knife diameter | 180 mm / 200mm / 220 mm |
| Web speed | up to 2600 m/min (depending on the knife diameter) |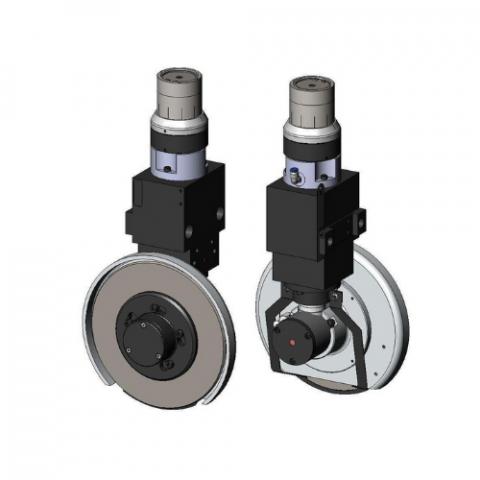 Shear cut knife holder from DIENES
The PSG DF BOX knife holder is the premium version that embodies decades of experience in knife holder manufacturing. This knife holder takes the top position technologically. As bestseller in the premium segment, it is the counterpart to our elite knife holder DS 8, which pays for itself with its more elaborate equipment.
The PSG DF BOX knife holder offers the following additional functions
Use of the knife holder PSG DF BOX
This shear cut knife holder is used in both winders and cross cutters and wherever it is necessary to ensure the highest cutting edge quality even under rough operating conditions. A multitude of cutting technology developments have gone into this robust holder design. Features that drastically reduce set-up times and add great value to the ease of use of all knife holders is the linear guide.
The PSG DF BOX knife holder with a cutting width of 145/150 mm was specially developed for cutting single-ply and multi-ply paper. Due to its vibration-damping guide system and the backlash-free vertical and horizontal guidance of the cutter head, the PSG DF is ideally suited for even the most difficult cutting tasks.
Version with CSL-Technology
In this version the knife holder is characterized in particular by the patented vertical guidance of the cutting head, supplemented by a precise knife depth adjustment and the sensitive Constant Sideload Technology (CSL), which extends the knife service life. The integrated positioning aid also allows the knife holder to be manually positioned in the correct cutting position in seconds. All individual systems do not only contribute to low-dust but also reproducible cuts. Whereas the limit for longitudinal cutting speeds used to be approx. 2500 to 2700 m/min, DIENES has now succeeded for the first time in using a knife holder with corresponding cutting tools successfully up to 3500 m cutting speed.
Our cutting experts will be happy to advise you. We also welcome you to visit our cutting lab at any time and work with you to find out which features are right for your application.
Your advantages
Reproducible knife setting forces that can be adapted to the cutting material

Sturdy construction for robust applications

Vibration damping guide systems

Backlash-free vertical and horizontal guidance of cutter head

Also ideally suited for difficult cutting tasks

Optional features can be retrofitted
That might also be of your interest