Multiple grooved knife blocks
We are happy to offer you individual dimensions in addition to the standard ones.
| | |
| --- | --- |
| Outer diameter | 77–490 mm |
| Inner diameter | 60–450 mm |
| Standard total strength | 50 / 100 mm |
| Standard cutting angle | 3° / 90° |
| Areas of application | Paper, cardboard, paperboard / labels, adhesive tape / aluminum foil, non-ferrous metals / film, foil, plastic / nonwoven, textile, special materials |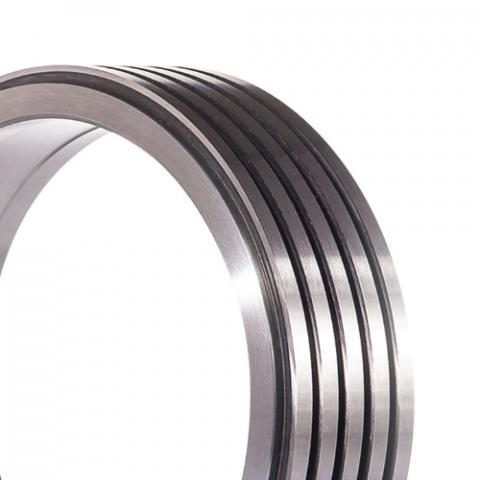 Multiple grooved knife blocks from DIENES
Precision and quality of the multiple grooved knife blocks are of great importance for the cutting result. Unusual precision requirements must be met during manufacture. The multiple grooved knife blocks itself, as well as its pitch, are manufactured to the tightest tolerances, ensuring consistently precise cutting widths. Other manufacturing criteria include hardness, bore inner diameter, outer diameter, accurate running cutting and lateral surfaces, surface roughness, runout, lateral runout and unbalance.
DIENES manufacturing standards ensure optimum hardness, shape retention, lowest concentricity deviations, side impacts and surface roughness.
Use of multiple grooved knife blocks
A multiple grooved knife block basically has several cutting edges (webs) cutting on one or both sides. Type ES is a single-sided cutting sleeve, while type BS multiple grooved knife blocks cut on both sides. The multiple grooved knife blocks are located on an appropriately dimensioned shaft and together form the bottom cutter shaft. In principle, a slitter shaft can be equipped in two ways: the shaft equipment consists only of themultiple grooved knife blocks or blocks and the intermediate ring alternate. A distinction is made here between axially clamped slitter shafts fully equipped with multiple grooved knife blocks and intermediate rings, and partially equipped expansion shafts. Both variants are used in DIENES slitting and positioning systems. Two-piece multiple grooved knife blocks, with retaining ring or the patented hook lock (Duo-Ring type) offer, in addition to the typical, easy and precise knife adjustment, the advantage of quick multiple grooved knife blocks change in the case of several multiple grooved knife blocks on one lower knife shaft, without having to dismantle them.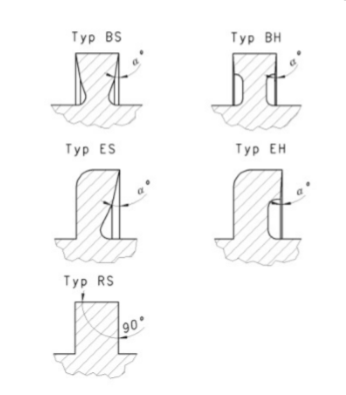 Advantages
Highest cutting performance due to optimised surface quality

Precise manufacturing tolerances for use at high cutting speeds

Different cutting groove pitches for the realisation of different cutting widths

Can be used in shear and razor blade cutting

Different locking options (smooth bore or screw locking)

One-piece or two-piece versions

Can be used for a wide range of machine types

DIENES polish "CONTROLLEUR"

Can be regrinded several times in manufacturer quality
Standard dimensions
Standard total thickness (S): 50 / 100 mm, standard groove width (S1): from 2.2 mm, standard pitch (S2): from 5 mm
Standard cutting angle: 3° / 90
Standard materials: chrome alloyed (1.5% Cr), high chrome alloyed tool steels (12% Cr)
Other dimensions and materials on request.
| Outer-Ø (D1) mm | Inner-Ø (D2) mm |
| --- | --- |
| 77 | 60 |
| 80 | 60 |
| 105 | 60 / 80 / 90 |
| 125 | 100 |
| 150 | 120 |
| 180 | 150 |
| 210 | 180 |
| 240 | 210 |
| 250 | 210 |
| 275 | 245 |
| 300 | 250 / 270 |
| 350 | 310 |
| 400 | 360 |
| 450 | 410 |
| 490 | 450 |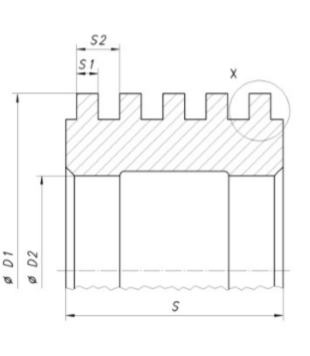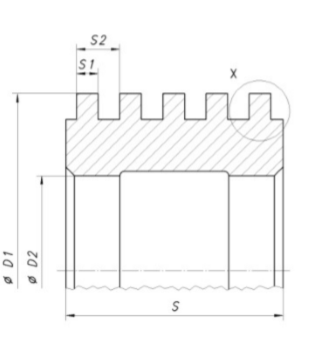 You might also be interested in