Shear cut slitting cassette for narrow cut
Technical data
| | |
| --- | --- |
| Min. Slitting width | 0,5 mm |
| Max. Web speed | up to 400 m/min |
| Max. Number of cuts | 160 or according to customer requirements |
| Max. Web width | According to customer requirements |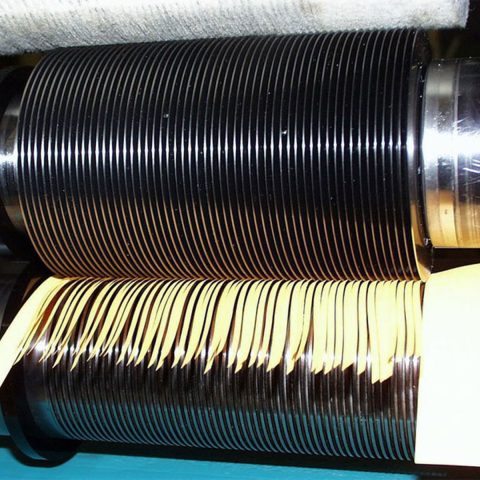 Shear cut slitting cassette
Consistent with all DIENES products, this slitting unit is precisely manufactured. The DIENES shear cut slitting cassette for narrow cutting is manufactured as a complete unit. This enables us to achieve much more precise manufacturing tolerances. When using the DIENES-patented Golden Slit knives, the narrowest slitting widths are implemented with the highest precision, thus avoiding production disturbances such as web breaks. Due to the small installation dimensions, the DIENES narrow slit knives can be integrated into almost any machine.
The DIENES slitting cassettes allow the top and bottom knife shafts to be removed in a few simple steps. The slitting blocks are simply fitted with DIENES self-springing upper knives, lower knives and corresponding spacers. To change the cutting width, only the knife shaft needs to be replaced. DIENES thus creates a high degree of user-friendliness through simple handling and enormous precision through precisely pre-adjusted cutting widths.
Use of the shear cut slitting cassette
To achieve the narrowest slitting widths, for cutting tear tapes, nappy closures, security strips for banknotes, indicators and others, DIENES has complete slitting cassettes in its product range, which are designed according to the customer's specific requirements for cutting width and number of cuts.
Reproducible adjustment of the overlap depth and the axial movement of the top knife shaft are ensured by knife clocks. The infeed and outfeed shafts integrated in the slitting cassette can realise a wrapped as well as a tangential material infeed.
Depending on the shaft and cutting tool dimensions, web speeds of up to 400 m / min are theoretically possible. The web speed is usually not limited by the cutting tools, but by the winding of the narrow rolls. Usually 70 – 80 cuts are made, but also up to 160 cuts.
For quick changes of slitting widths, it is advisable to order loose replacement shafts that are already pre-assembled and can be inserted into the slitting cassette in no time at all.
The prerequisites for optimum cutting results with DIENES slitting cassettes are that the cutting tools have been cleaned of dust and oil or grease residues before installation and that the top and bottom knives and spacers are fitted in such a way that they belong to the same tolerance group.
The patented, self-springing Golden Slit top knives are particularly suitable for narrow cuts. The innovative slits in the blade create a spring effect, compensate tolerances and cutting-critical vibrations to the greatest possible extent and thus prevent blade damage. The additional "Longlife" and/or "ADS anti-dust surface" coatings increase the service life many times over and considerably reduce dust formation. The narrowest slitting widths can be achieved by combining top knives and spacers.
Optionally, an electrically lockable Plexiglas guard can be fitted for protected operation.
Your advantages
Easy change of cutting width due to simple replacement of the cutter shafts

Optimum accuracy due to precisely pre-adjusted cutting widths

tool-free removal of the top and bottom cutter shafts

User-friendliness through simple handling

Consistent synchronous and smooth running of the knives

The slitting cassettes can be installed in all common machines and also for retrofitting
Have a look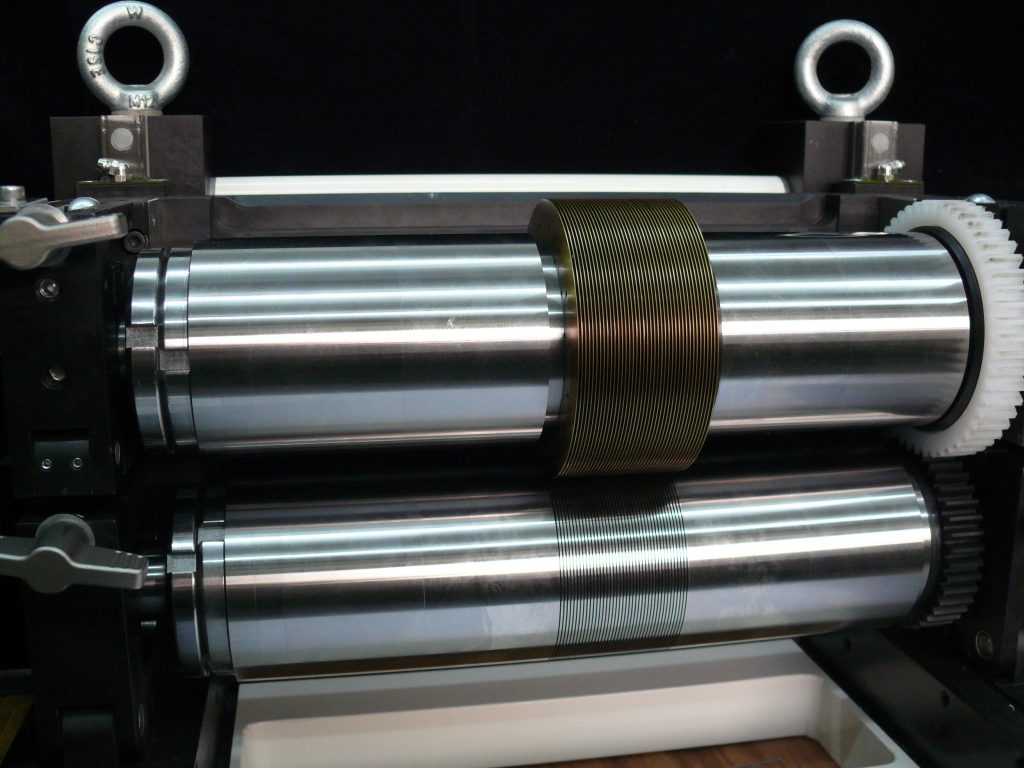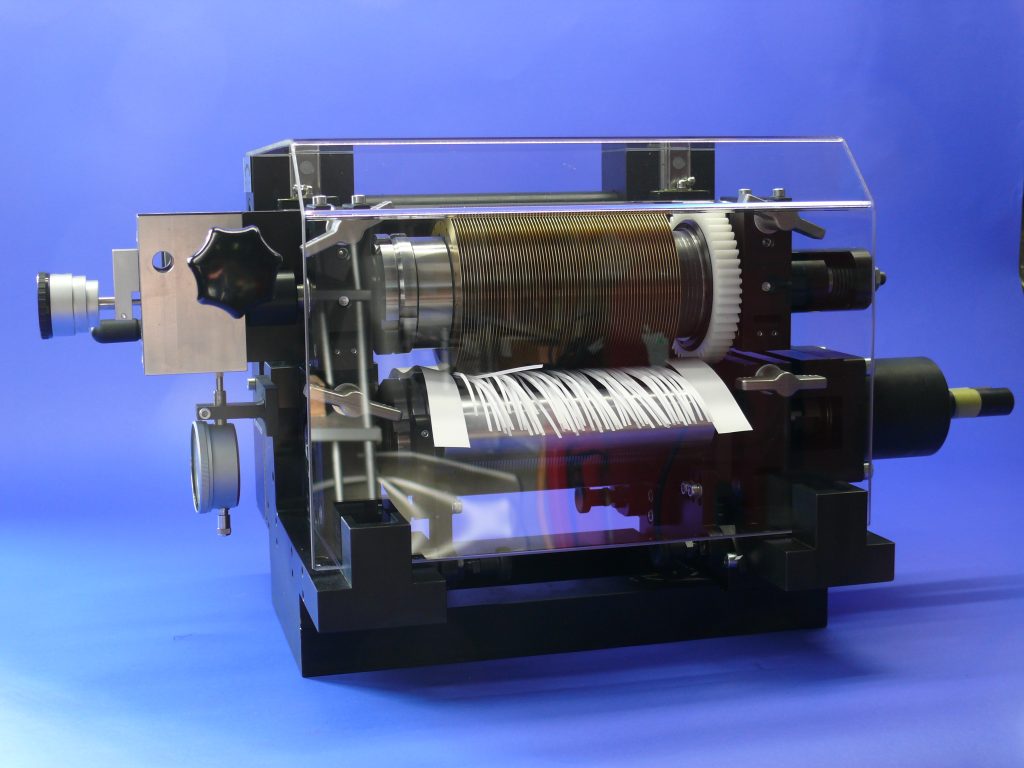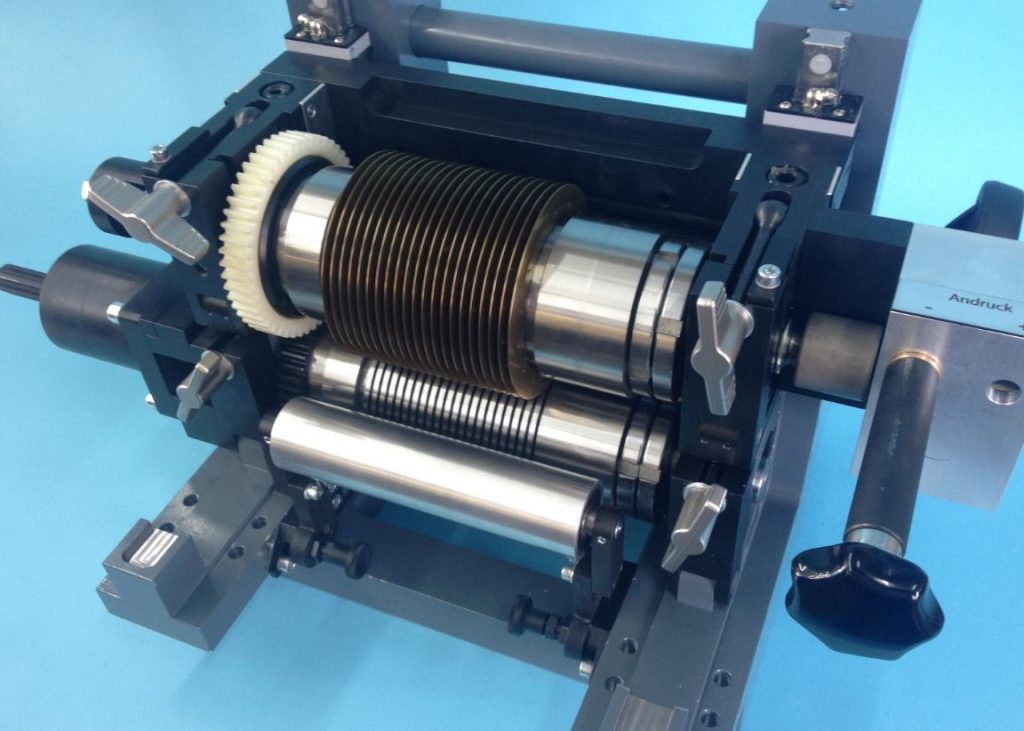 That might also be of your interest